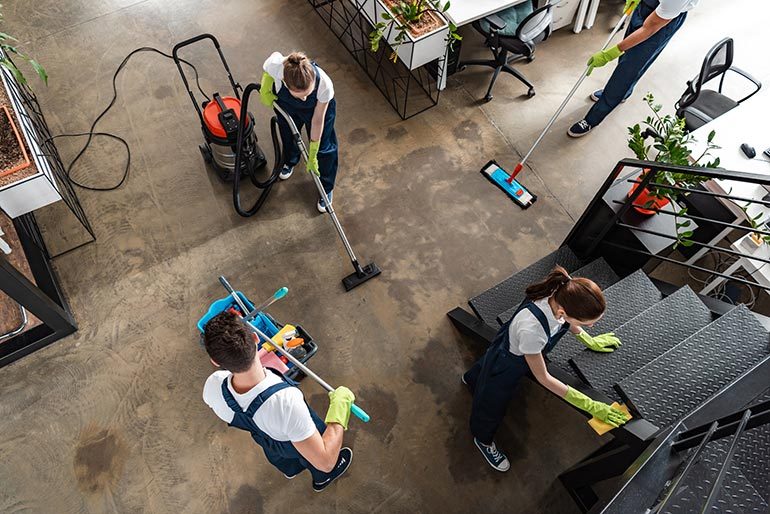 We will make sure your office spaces will be clean and sanitized for you and your staff.
Corporate offices and commercial buildings must be a safe and clean environment at all times to guarantee the well-being of employees, clients, and visitors. By providing a hygienic environment for employees, you are putting in the effort to reduce the spreading of unwanted illnesses and the likelihood of sick days.
100% Guarantee Cleaning
Professional Team
Expert Team Members
No Hidden Charges
Quality Standards
15+ Years Experience
In business, image and presentation is an important key to success.  It is often  the impression you give to your clients and visitors. The cleanliness of your office also plays an important role in your workers productivity, health and job satisfaction.
Maintaining a clean and healthy environment is paramount to ensure the safety and security of your employees and visitors. We are a fully equipped office cleaning industry leader, with disinfection cleaning expertise.
There are two things that Dura Property Solutions understands about your office space; One, it is nothing like any other office space, it is unique to your business and industry. And second, every office space comes with its own unique cleaning challenges—challenges that usually get on customers' nerves and are hard to handle day in and day out.
It's with this understanding that Dura Property Solutions is able to provide truly comprehensive office cleaning services suited to your schedule, budget and goals. Our commercial office cleaning plans are completely customizable, making them something of your making, not just something everyone else gets.
Some of our office cleaning services include:
Dusting: Dust is one of the biggest cleaning challenges most companies face. It seems like it never goes away and is always lurking in the air or on every surface. Our daily cleaning services can help with that.
Window Cleaning: Nobody likes to see the dirty windows of a business they are about to enter. Let our cleaning services make them shiny and new.
Sanitization and Disinfection: Everybody knows that once someone in the office gets something, it's very likely to spread to everyone else sharing the workspace. That's why our disinfection and sanitization is perfect for daily cleaning as we cover every area of the office, no matter how big or small, so you can come into work the next day with peace of mind.
Tile and grout cleaning

Pressure wash
Balcony cleaning

Floor waxing

Pure air / ozone

Carpet cleaning

Special requests